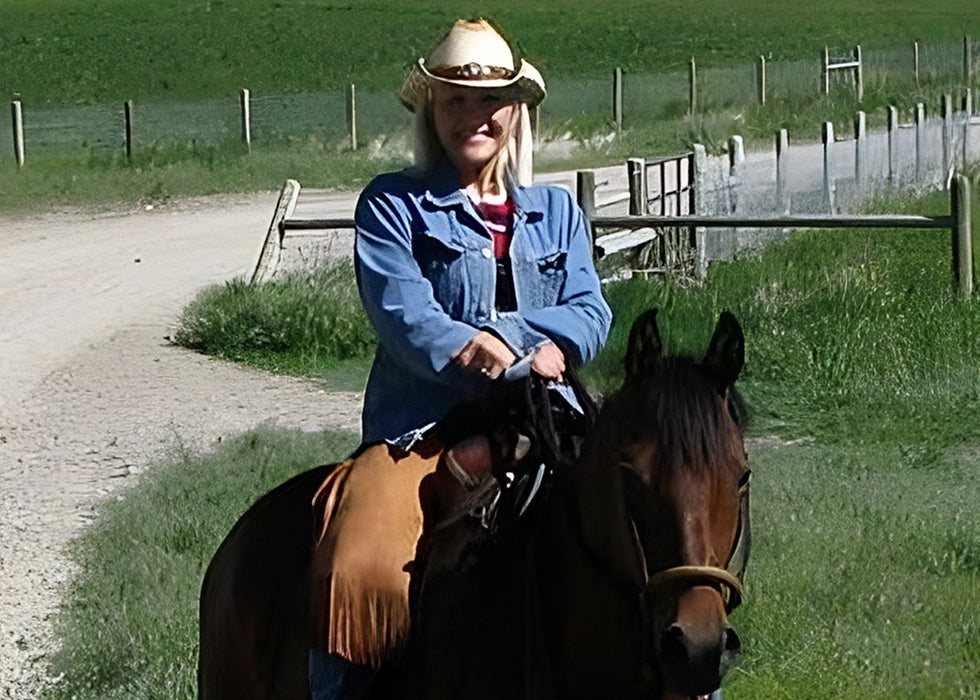 Julie and her horse, Harvey
Savvy Feeder Inventor, Julie Johnson, dreamed the design one night, drew it out the next day and then began the arduous multi-year process of product creation/development to eventually patenting the design. Julie built a highly successful manufacturing business on her Midwestern farm and had 100's of happy customers from all over the United States.

Dressage trainer and FEI rider Jen Truett, of Lebanon, Ohio, searched for years to find a slow hay feeder that encouraged natural foraging behavior in horses and cut down on wasted hay.
Her FEI horse, Absolute Dream (aka "Dreamy"), spread hay around his stall and dunked it into his water bucket, making a mess every day. Jen never liked how frustrated he got eating from hanging hay nets or how they torqued his neck and made him muscle sore. After Dreamy got cast in his paddock and hurt his neck, she scoured the internet to find a ground-level hay feeder that would not further strain his neck and was safe for shod horses. Knowing Dreamy's athleticism, Jen wanted a completely mobile feeder that he could freely move around his stall and, when he did put feet in it, he could easily and safely take them back out.
Lenny holding Prixie Pants and Jen holding their Austrailian Shepard, Loki Poki and Piretta FooFoo while sitting on her now retired Grand Prix dressage horse, Taffy.
Jen and engineer husband, Lenny, brainstormed design ideas to build their own hay feeder to fulfill her requirements for Dreamy. Then, a client told Jen about how impressed she was with her Savvy Feeder, and even let Dreamy test drive it. Dreamy and Jen were convinced immediately! After getting the initial feeder, they went on to purchase feeders for their farm's dry lot paddocks and their personal horses' stalls. Using the feeders on a larger scale around the farm highlighted the cost savings gained from virtually eliminating hay waste and labor to remove wasted hay.

As a customer, Jen wrote the following review on the Savvy Feeder website: "I feel like I hit the jackpot!" she says. Since then, she's added a Savvy to every dry lot on her and her husband Lenny's 40-acre Dancing Horse Farm.
"I highly recommend Savvy Feeders to anyone looking for a natural, safe, and non-wasteful way to feed horse hay," she says. "I just wish Lenny and I had come up with this idea and design ourselves...it's brilliant!"

Jen and her current Grand Prix dressage horse, Absolute Dream, "Dreamy" in their victory lap after winning the 2022 Intermediaire 1 Championship at US Dressage Finals.
A year or so later, Jen and Lenny were honored when Julie approached them about taking over the company. Julie believed Jen's reputation and influence in the equine industry would introduce the product to a broader audience throughout the US and eventually around the world. The hand-off was complete March 1, 2023, when Jen and Lenny announced they "took the reins" of Savvy Feeder and moved the entire operation to their Dancing Horse Farm in Lebanon, Ohio.

Savvy Feeder: invented, assembled, and distributed by horse people for horse people, in the USA!